When dealing with sensitive personal information, there are many industry regulations that vendors are either required to follow or are strongly advised to. If the vendor that you work with does not comply with these regulations, there is a possibility that your company will face fines and punishments, along with losing customers and damaging your company's reputation. While some mistakes happen while working with almost any vendor, the frequency of mistakes and reaction time vary greatly depending on the quality of vendor you are partnering with.
Here we will explore some of the industry regulations and penalties for not adhering to them, along with how a quality vendor can help avoid and mitigate the negative consequences.
SOC 2


SOC 2 compliance is an auditing procedure that ensures vendors handle data in a secure manner, protecting the interests and privacy of their clients. While compliance is not a requirement, it is a major red flag to organizations when a vendor does not adhere to it.
The criteria for being SOC 2 compliant revolve around 5 "trust service principles" which can be found in the graphic below: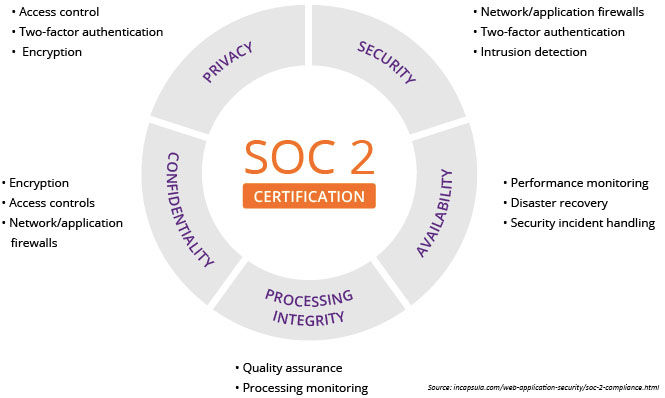 There are two types of SOC 2 reports, Type I and Type II. Type I reports on whether the design of a vendor's system is up to par to meet relevant trust principles. Type II actually details the operational effectiveness of a vendor's systems. Working with a Type II vendor is ideal as they are being held more accountable in sustaining quality systems.
If you're working with a vendor that is not SOC 2 compliant, you are putting your company's reputation on the line. If the vendor mishandles a customer's data, the blame will still fall on your company because you chose to work with the vendor. Aim to be working with a SOC 2 Type II vendor to ensure that data will be handled in the proper way and your organization will not lose the trust of your customers.
HIPAA
The Health Insurance Portability and Accountability Act — or HIPAA — is a well-known regulation that deals with personal health information (PHI) and how it is handled. The act pertains to every covered entity — anyone who provides treatment, payment, and operations in healthcare — and business associate — anyone who has access to patient information and provides support in the areas covered entities handle — states the U.S. Department of Health and Human Services.
Technical, physical, and administrative safeguards must be in place and adhered to in order to protect PHI. If a breach of PHI does occur, vendors must follow the procedure in the HIPAA Breach Notification Rule.
The punishments for HIPAA violations can be either be civil or criminal penalties. The severity of civil penalties is divided into tiers based on the vendor's knowledge of the violations, with minimum and maximum annual fines ranging from $25,000 to $1.5 million. Criminal penalties are also structured with a tiered system, while also bringing the potential for jail time as well.
HIPAA violations are one of the more severe punishments you can face. They can have a major impact on your business in both financial and reputational terms, as well as putting you at risk of legal implications. Working with a vendor that follows the HIPAA regulations exactly will ensure that customers can trust you with their PHI and not have to worry about exposure.
PCI-DSS
The Payment Card Industry Data Security Standard (PCI-DSS) aims to secure credit and debit card transactions against data theft and fraud. Any organization that processes credit or debit card transactions is required to be in compliance.
Being in compliance with PCI-DSS presents the best option and framework for protecting sensitive data and information — helping to establish trust between you and your client that their data is secure.
The requirements to be PCI-DSS compliant are:
Installation of firewalls

Encryption of data transmissions

Use of anti-virus software

Businesses must restrict access to cardholder data and monitor access to network resources
Because vendors deal with customers' financial information, it is extremely important to work with one that has the correct processes in place to securely manage it. The cost of noncompliance can be in both monetary and reputational terms. If a breach reveals sensitive customer information, fines from the payment card issuer could be assessed, along with potential lawsuits from parties involved.
The vendor you choose to work with should be in compliance with all of the listed regulations. If they are not, it's time to start searching for a new one. While looking for a new vendor, download The Guide to Transitioning Statement Vendors to help guide the process.
DNI is a SOC 2 Type II, HIPAA, and PCI-DSS compliant communications provider — we're committed to securely managing all aspects of your business. If you have any questions, we'd be happy to talk — contact us.