The decision to switch vendors — and the process that follows — brings uncertainty and questions to organizations in the throes of a change. How do I choose the right vendor? How long will it take? Will there be a disruption for my customers?
We've seen many companies considering making the switch, and wanted to share some helpful resources to support this decision and answer these questions. This guide will help you understand when to make a switch, how to evaluate vendors, and what you can expect from the right partner to meet your needs.
Signs It May be Time to Transition Vendors


We've already explored the 3 areas that are most likely to cause pain in our previous post, but we wanted to take a deeper dive. Having had so many clients switch over to us because of bad vendor experiences, we have heard numerous horror stories of vendor mistreatment of our clients. Whether it be a vendor being impossible to get in touch with, to them making changes without knowledge or consent of the client, we've heard it all.
That being said, it is still tough to know when to switch vendors. Through speaking with clients and employees, here's our list of the top 9 indicators it is time to make the switch: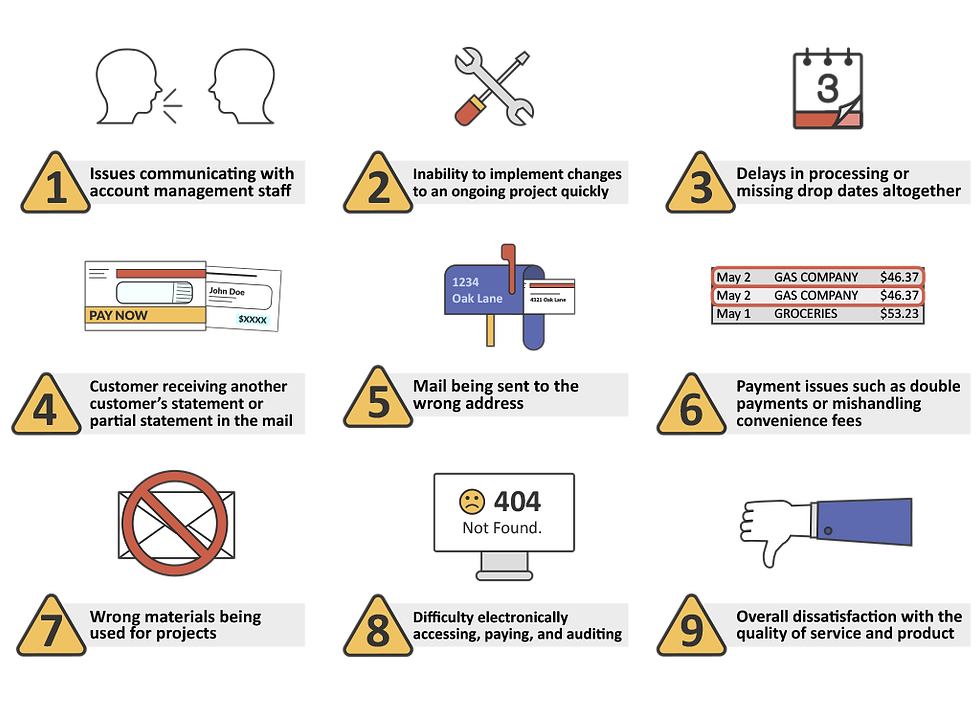 If you observe one or more of these signs with your current vendor, it's likely worth your time to evaluate alternatives and compare them with your provider to see what better options are available. Once you are ready to make a move, consider the following areas on your search.
Areas to Consider When Choosing a New Vendor


After you've decided to start exploring vendors, your considerations expand from specific pain points to broad focus areas of the business. These are some of the areas you'll want to think through — and ask about — when weighing the options for prospective partners.
Timeline
Consider the timeline for both transitioning to the vendor and implementing a new project. It is very important to make the transition as quickly as possible to mitigate the repercussions that may arise with your previous vendor and keep the statements/communications projects on schedule.
You may be able to transition to bigger vendors quickly if they have previously worked with a company with similar needs to yours and have a process in place already, but you will be fitting into a "mold" that offers less flexibility than if a custom process is built around your specific needs.
See how DNI doesn't miss deadlines in this quick video.


Production Changes/Flexibility
You never know when things might change, so it is essential to work with a vendor that is very flexible and able to adapt on the fly. Whether it be changing the look of the statements you're sending out, or adhering to a new industry requirement, vendors should have the capabilities in place that allow them to implement anything you need within reasonable turnaround times.
Working with a vendor that can make modifications along the process, from first proof to go live, will make a world of difference in your business relationship.
Print vs. Electronic
Some vendors have more expertise in electronic solutions than print, or vice versa, so it is important to evaluate which medium you will utilize most and choose the vendor that excels in each area.
Grade their capabilities in regards to print, such as the internal equipment they have and speed of production. On the digital side, investigate the quality of the electronic payment portal and potential savings of converting customers from print to electronic delivery.
Many organizations are choosing a hybrid communication model, where customers can choose if they'd prefer print communications, electronic correspondence, or both. Catering to these preferences can be a beneficial touch of customer delight, but you'll want to make sure your partner can excel in delivering through both channels.
Communication
Being able to communicate with a vendor is key to producing the best possible outcome. Having an open line of communication allows you to relay any changes that may need to be made and provide feedback on the project that is being done.
Many large vendors are difficult to communicate with, especially if you are a smaller company and they don't see you as a big money maker. Be sure to evaluate how easy it is to get in contact with an account manager — if you have an account manager — and to ask what kind of response windows you can expect when needs arise.
Accuracy
Accuracy goes hand in hand with communication — the better you communicate what you need, the more accurate the final outcome will be.
Make sure that the vendor has systems in place to check the quality of the work being done (both print and digitally), so they can ensure that your criteria is being met. Accuracy is extremely important when dealing with things like statements due to the amount of money at stake and the critical, personal information being managed — can you afford the legal and financial risk of sensitive correspondence falling into the wrong hands because of a vendor error?
Security
Vendors constantly deal with sensitive personal information such as addresses, statements, and personally identifiable information; therefore, it is imperative they have a secure process in place to protect your customers' information.
For print products such as statements, barcodes can be used and scanned before insertion to verify the correct statement is mailed to the customer.
Watch our short video to see how DNI ensures the correct statement goes into the right envelope every time!
For electronic solutions, any personal information should be encrypted, along with the computers being used having certified firewalls. Archived files must be secure as well.
How Does Transitioning Actually Work?


Obviously, we can't speak to all vendors, but we've helped hundreds of clients through their transitions and have a well-defined process in place. Our process stems from a single goal: to make the transition for our clients as easy as possible, and to take the burden off of them.
Our clients do not have to spend countless hours in meetings to get the implementation plan in place; there's one set of requests to get started, and just a single implementation meeting — the kickoff — you'll need to attend. It happens in four easy steps:
1. The Request
Once an agreement is in place, our business development team will reach out before we schedule our implementation kickoff meeting to request the items below.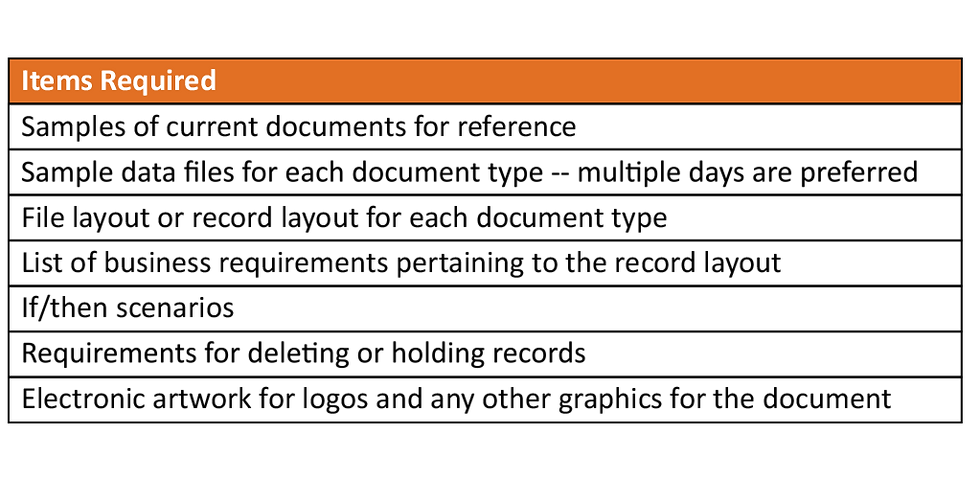 Once all the necessary items are accounted for, our implementation team will then do the heavy lifting and get the process rolling.
2. The Kickoff
The kickoff's purpose is to get DNI and the client on the same page before the implementation is started. This meeting will give both DNI and the client an opportunity to ask questions to clarify the processes and requirements that will be followed. The purpose is to give DNI all requirements in order to do composition and finalize the applications.
3. The Setup
DNI will compose the documents and upload them to our DNI DOC (Document Output Center) review portal where the client can view it, review records, and check on certain accounts with specific business rules.
4. The Finish
Once you've reviewed the work, you can either request changes if needed or approve sending to begin. We'll make changes until you're satisfied, then begin testing connectivity related to each delivery channel and payment process that you sign up for.
So how long does it all take? The process can vary depending on multiple factors, but our typical implementation process from signing the service-level agreement to go live is usually within a 3-month window.
To get an estimate of how long the implementation process would be for your company, or if you'd like to talk through some of the considerations we laid out above, feel free to contact us and schedule a no-cost consultation.